2021/2020 Hair Styles Trends
Anyways 2021/2020 are here and today we've got 25 hairstyles for our younger audience that will be dominating the year ahead and we will be starting with the shortest hairstyles first then gradually going up through longer hairstyle looks.
Number 1 – we've got a faded buzz cut. Now for the younger dudes still in your early teen years, you're still growing, still developing. This is the best style at your young age, easy to maintain and give you an attitude that influences confidence.
Number 2 – regular buzz cut has those masculine features that haven't fully developed in you yet. Therefore, your facial features might still be a little, round and youthful-looking, especially near the jawline, and so a regular buzz cut won't compliment you as much as a faded buzz cut. Number 3 – As a faded buzz cut is going to give your face a more squared-off shape making you appear more chiselled and more masculine opposed to making your face look rounder and more youthful as a regular buzz cut would do.
Number 4 – the short crew is a look that's been gaining some serious traction over the last couple of years. This is basically like a grown-out buzz cut but that's still short crew style. Number 5 is nice and clean on the sides or you could go for something just slightly longer like the modern crew which will be nice and easy to style and also maintain the short messy chop is a great look that has 2021 written all over it.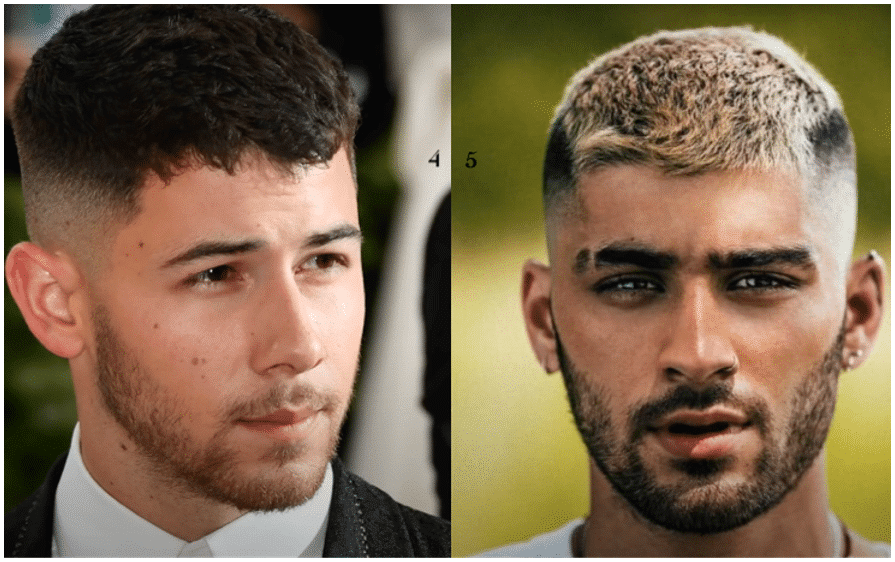 Number 6 – Another great hairstyle that's also easy to style and maintain due to how messy it is. For this style, it's almost like the messier the better in our opinion. Number 7 – the textured mid fade is a great choice to roll with. Especially in modern times like these as high skin fades and high skin tapers are starting to take a back seat and fade out.
The mid fade serves you with a more natural yet still very much, cleaned up look or you could grow out the sides a bit and really go for a more natural look Number 8 – such as this. Now if this is too natural for you, Number 9 – then you could also just get a sideburn fade while asking for clean up around the ears and neck. This is a look that's definitely been more popular lately and from this point, if you grow out your hair just a bit longer on top, you'll definitely be able to start slicking it back to the side a bit. Number 10 – Here is a slick back with a mid-fade that looks really nice on pretty much anybody any face shape.
Next is Number 11 – the curly fade is a great selection for those of you with curls or Number 12 – nappy hair for short messy quaff is a dope look if you're wanting something stylish yet very masculine at the same time.
Number 13 – Now for those of you, that love the high skin fade and can't seem to shake this look. The only thing I'd suggest is not going too much longer on top than this. If your hair is longer than this then I'd say just slick it back but if you Number 14 – keep growing it longer on top, then the cut is almost going to start looking too drastic like some sort of undercut or something which of course as we know is not as trendy as it once was a few years ago.
However, if you do like that longer more voluminous top. The only thing I'd suggest is growing the sides out just a tad. Even so, that way the cut doesn't look so bizarre and so drastic. Now for a style like this, I would definitely say to use a blow dryer in some sort of high holding clay much like Number 15 – Matt Mudd. It gives you a nice natural finish with an intense hold that'll last you all day long.
Number 16 –  moving on keeping things messy and a bit overgrown is a trend that's really starting to take off right now and if you were ever to grow out your hair, now would be the time to do it like that. An awkward stage that men usually face while growing out their hair, this stage is actually trendier now than it's ever been so while your hair is growing out. Number 17 – this is a great look that you can go for as you can see. Both these hairstyles have a subtle off centred part as you can see.
Number 18 – here's a similar look for those of you with wavier hair that also looks really nice. Definitely, a look I'd go for myself if my hair wasn't so straight. Number 19 – Another cool look from my wavy hair dudes is this simple casual look. It's very low key yet has a cool vibe to it.
However, if you aren't feeling the fringe in the front you, of course, could do a more Number 20 – side swept quaff for a more you know masculine appearance. Number 21 – The messy side part is a great choice to go with as well this is a nice look that's always been in style and I don't ever see it going out either.
Number 22 – As we know the 90s are back stronger than ever and the rom-com look is looking pretty fire at the moment. Number 23 – We know a lot of you younger dudes here on this channel watching are 2000s babies, so this is your chance to really enjoy some of that 90s nostalgia that you never really got to experience. So, with that said one of the most classic low keys looks that you can achieve is the wanted look.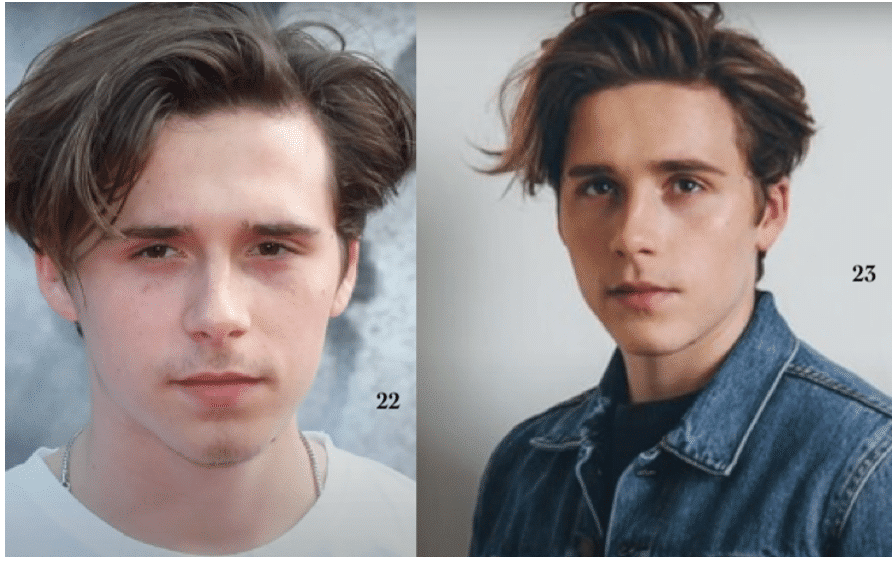 Number 24 – messy slick back. This cut has no skin fades no lineups it's just naturally a great look. It's, of course, a really grown out look but because it's all pushed back nicely with some pomade. It gives it a really nice, elegant touch now this is a more popular look at the moment and we highly recommend it.
Number 25 – We would suggest is just to be okay with some of the hairs falling out of place. High volume hairstyles don't necessarily look their best when they're perfect just standing stiff and straight up like a peacock or something right. Instead, just maybe scale back your hair products a bit definitely don't use any hair spray as that's going to make it Number 26 – just stand straight up like some sign, some sort of sculpture.
Number 27 – So be you know to be cool with those strands kind of falling as they may as this is what gives it style this is what gives it vibe. Number 28 – Now many dreads are undeniably a great look especially at this length athletes are going from more similar looks more than ever right now. So, you may want to jump on this if you haven't yet.
Number 29 & 30 – The layered long hairstyle is nice as well and something that's definitely gaining some serious traction. However, if you have this you know these hair measurements. Don't be afraid to also apply some pomade in it every once in a while, and style it for maybe a nice date night.