The benefits of going to an OLD School Barber: Grooming tips for real gentlemen!
Finding a good barbershop should be amongst the first items on your to-do list! There is no greater experience than having a professional guy lather your face and shave your beard, then oil you up with fancy oils and pomades, this is not the only thing that a good barber will do for you but he will also exfoliate your skin thus making it feel fresh and looking healthy AF. Trust us on this one, you'll feel both pampered and empowered, all while becoming your most dapper self. After one barbershop experience, you'll be eager to have your hair and beard grow back fast so you can make another appointment in men heaven also called men cave.
One of the main reasons the barbershop is like a safe haven for guys is the feeling of belonging that it gives you. Go to the same corner barbershop for more than five times and you're already on first-name terms with most of the guys there, including the barber himself. There's no greater sense of community than the one established in a place where you're at your most vulnerable. 😊
A shorty history injection of barbershops
The history of the barber and barbershop is an interesting story, dating back to 3500BC, barbering is thought to be one of the oldest trades known to man. The word 'Barber' comes from the Latin word 'Barba', meaning beard.
Originally, barbers were known as barber-surgeons because, as well as cutting hair and shaving, barber-surgeons would also perform minor surgical procedures ranging from extracting teeth to amputating limbs.
Mortality during surgery at this time was quite high due to loss of blood and infections. Doctors in the middle ages believed that taking blood would help cure the patient of sickness so the barber would apply leeches to the patient.
From the 1880s till the 1950's hair wax and pocket-comb carrying was a thing, barbershops were very popular, during these years the social hub was the barbershop was man were pampered and still be as manly as it can be. Business and friendly relationships all started there, at the corner barbershop. Men would go in these places not just to get groomed, but to socialize hours on end. Classy Tabaco, musk, apple and cherry-filled the air in these hand-crafted marble top, back then these barbershops offering handmade hair tonic and hair products. The decline of these absolute gems was due to Gillette razor blade back in 1904. Therefore, like today going to the barber became a special treat, rather than an everyday occurrence.
A SHOT FROM THE PAST! 
Here is a picture of Cannavo, who was considered to be a top barber in the Cottonera area in the 1920s. The photo was taken by ELLIS, a well-known photographer back in the day. Our client, Mr. Xuereb told us that his grandfather is the boy behind the barber and the men reading the paper about to get his haircut is his great grandfather whose name is also "Antonio" 💈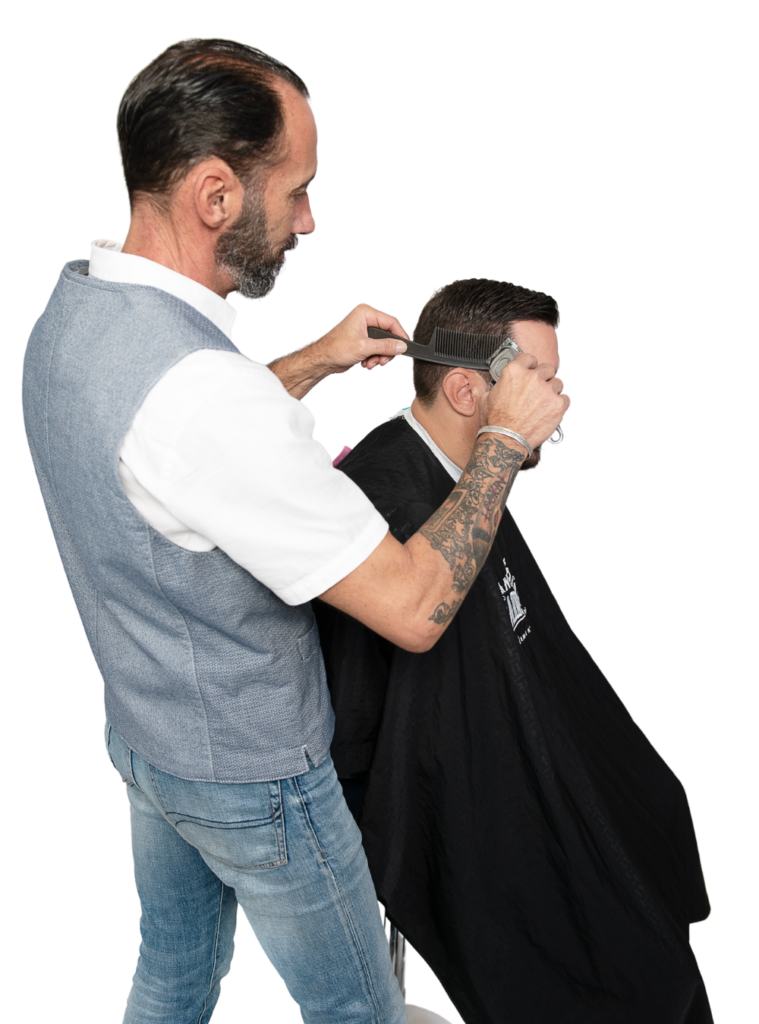 ANTONIO'S HERITAGE!
Did you know that the talented Antonio Camilleri was inspired by his grandad who was a barber and dentist on the Royal Navy? Serving on 4 different ships, grooming seamen of all grades, captains to sailors. It is said, the love to the trade was bestowed down skipping one generation.
Avoid going to the unisex salons if you care about your trim, a real barber knows his stuff and won't do a hack job out of your haircut, as he is trained to cut with clippers, scissors and all types of modern machinery. The conversation happening in a barbershop is high-quality stuff, as you are prone to meet interesting figures with even more interesting stories to tell. As for shaves, you have not lived until you have tried a proper, plush chair, single-razor, hot towel classic barbershop-style shave. "The challenge is to remain awake and not fall asleep". Reduce your stress by visiting your nearest Antonio's Barbershop located in Balzan and at the Plaza Shopping Complex in Sliema.
From a real father and son bonding experience to an enhanced community feel, a game of pool and a glass of whiskey, the barbershop is the place to be if you want to feel overall manlier and definitely better groomed. There's nothing like a nice lather and a face moisturiser to take away your daily worries. "LIFE, It's written all over your face". Now call 99374443 and get a real trim and shave and tell us all about your experience in the comments below.